What Do We Know About the 2020 Ford Bronco?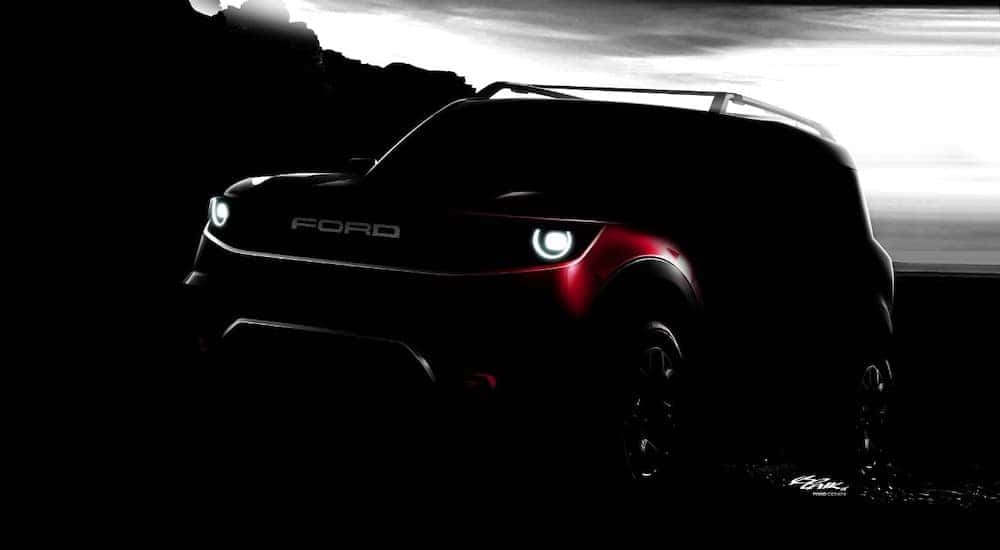 What could we possibly say about the SUV market that hasn't been said countless times before? 'It's over saturated.' 'It's redundant.' And yet, 'the ever-increasing popularity of crossovers and SUVs have made them the focal point of nearly every automaker's lineup' falls into the same list of oft-repeated phrases. That said, Ford has always been celebrated for avoiding the pitfalls of cookie-cutter crossovers, and their latest offering is a perfect example of how to do an SUV right. So, with one foot in the past and one planted firmly in the future, let's take a look at the 2020 Ford Bronco. Ford SUVs for sale have always proven themselves to be a popular draw in Carbondale, but it's safe to say that the all-new Bronco has piqued an almost unparalleled level of interest.
Across five generations with an even thirty-years on the market, the Ford Bronco had proven itself an enduring favorite many times over. But, setting aside the collective favoritism that we've showered upon crossovers in the last decade, let's be honest – the off-road SUV segment has all but belonged to Jeep since…well, the mid-to-late 1990's, after the Bronco was retired. So, the idea of Ford returning to the fold provides a bit of excitement for everyone. It might have taken a while for it to happen, but it genuinely feels like a perfect time for it.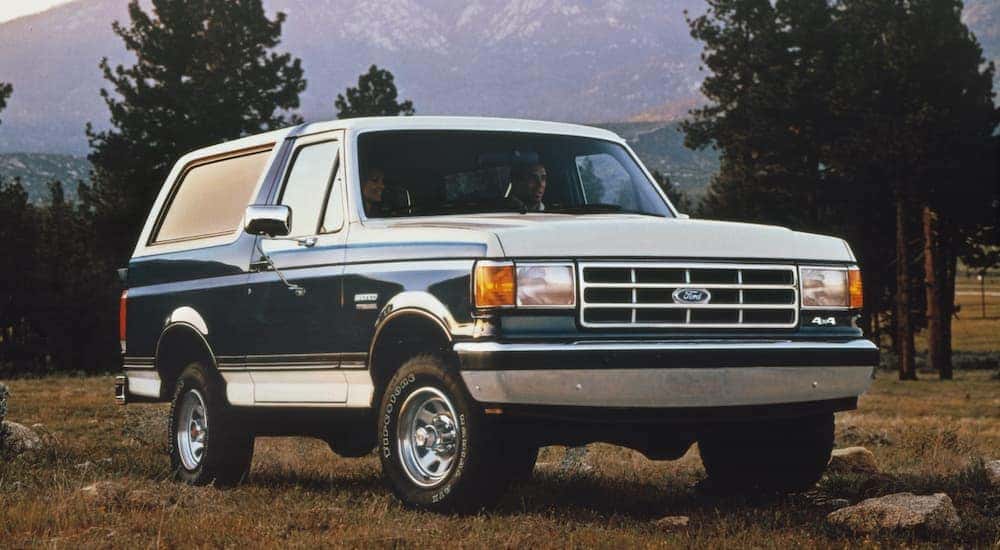 A Design For Everyone
Consider the successful reintroduction of the midsize Ranger. The $850 million investment made by Ford into a Michigan assembly plant was designed to support the reintroduction of both the Ranger and the Bronco. The new Ranger (T6) platform provided the basis upon which the Bronco underpinnings were designed, so the investment had the potential of paying off two-fold. And the Ranger recognized a void in the lineup which required filling – stepping up in order to do so. The Bronco plays a similar role: that of a midsize offering unafraid to defy recent design trends in order to achieve something on-brand, albeit with a distinct identity all its own.
For this reason, the Bronco will be more than just a casual offshoot or an uninspired re-imagining of a familiar nameplate. Recent prototypes and concepts have been boasting a classic body-on-frame chassis, with a short wheelbase, retro-styled and more boxy demeanor. Its design (complete with rear-mounted spare) seems to be more evocative of a Range Rover than it does an Explorer. And furthered by its rounded headlights, it truly feels like the natural evolution of the classic Bronco, had it never been retired. Expected to be served up in both two and four-door configurations, it appears as though there will be a Bronco for everyone, which includes those consumers with a mind for sustainability. Ford president Jim Farley has been quick to address the likelihood of a hybrid, stating, "Hybrids for years have been mostly niche products but are now on the cusp of a mainstream breakout. The valuable capability they offer – plus fuel efficiency – is why we're going to offer hybrid variants of our most popular and high-volume vehicles, allowing our loyal, passionate customers to become advocates for the technology." And for those on the edge of their seats awaiting mention of the Bronco, he described it as "part of Ford's new strategy that includes going all-in on hybrids to bring more capability to customers of our most popular and high-volume vehicles."
Not that the Bronco will exist solely as a hybrid. We expect it to arrive equipped with a 2.7-liter EcoBoost powertrain capable of up to 325 hp or, at least, a 2.3-liter four-cylinder mill currently found in the Ranger. Once again, it comes down to where you find your information, and where those resources obtain theirs from. We've seen conflicting information surface between national publications and Canadian ones, for example.
Off-roading Experience
But moving on…as with any competitive off-roading vehicle, the option of an open-air experience carries some perceived importance. With this in mind, we turn to patent filings which indicate the potential option of both removable doors and roof, along with a retractable soft-top.
And what kind of off-road credentials can we expect? According to everything that we know, the Bronco will feature a specially-tuned suspension, skid plates, and a limited-slip differential. And in line with most of today's performance-minded offerings, we can also expect a versatile drive mode selector designed to modify its drivability as needed for diverse driving conditions.
But for those in search of an even more modest footprint, a smaller version (with proportional versatility) is also expecting a reveal over the next year or two. Referred to in some circles as the 'Baby Bronco,' and in others as the 'Bronco Scout,' the concept speaks to the near-universal appeal of the Bronco's revival. As we said, something for everyone.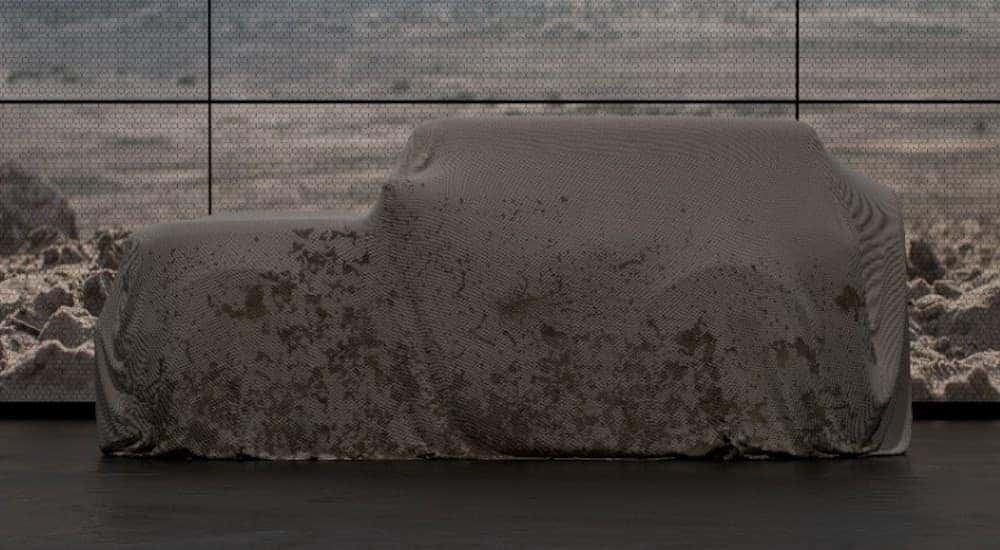 And now, there are even rumors of a four-door pickup truck variant of the Bronco, positioned to battle the Jeep Gladiator for domination over the alternative truck segment. While some have pointed out the irony of beginning with a Ranger pickup, turning it into the Bronco, then turning it back into a pickup – albeit a different one than the Ranger – the fact is that there's precedent behind the idea of a Bronco-based pickup. That precedent might stem back to 1966, but it's precedent nonetheless. Of course, depending on who you ask, it'll be sometime between 2022-2024 before it actually becomes a reality. And, according to patent filings, we might even see EcoBoost powertrains, a hybrid variant, removable door, and roof components, and maybe even a hi-po'd Raptor equivalent. Okay, maybe we're just spit-balling speculation based on these options being expected for the Bronco SUV but, if there's one thing Ford has proven as of late, it's that they're absolutely willing to take ideas that work well, and move them forward into new and exciting directions.
And ultimately, isn't that an excellent description of the new Bronco? Ford has successfully taken one of the world's most iconic pioneering SUVs, a mainstay of three decades, and revisited it with a bold new aesthetic and a wealth of modern tech-centric amenities. Combining elements of the past with elements of the future – it's easy to see why the Bronco has been able to garner so much excitement.
When Can You Get Yours?
But amidst all of the excitement and circling rumors, the question of when the Bronco will actually be released remains a grey area. In this piece, we address it as a 2020 model year offering, but some consider a 2021 model year release to be far more likely. It's with this in mind that we take all of these details (and most of the other stuff that we hear) with a relative grain of salt. Ultimately, it's safe to say that nothing is carved in stone until we hear it from Ford – and even then, it might still not be safe to cash any checks on the topic.
What are your thoughts regarding the introduction of the new Ford Bronco? Is it worth the hype, anticipation, and all the positive buzz? We want to know what you have to say!