Where to Find a New 2020 Super Duty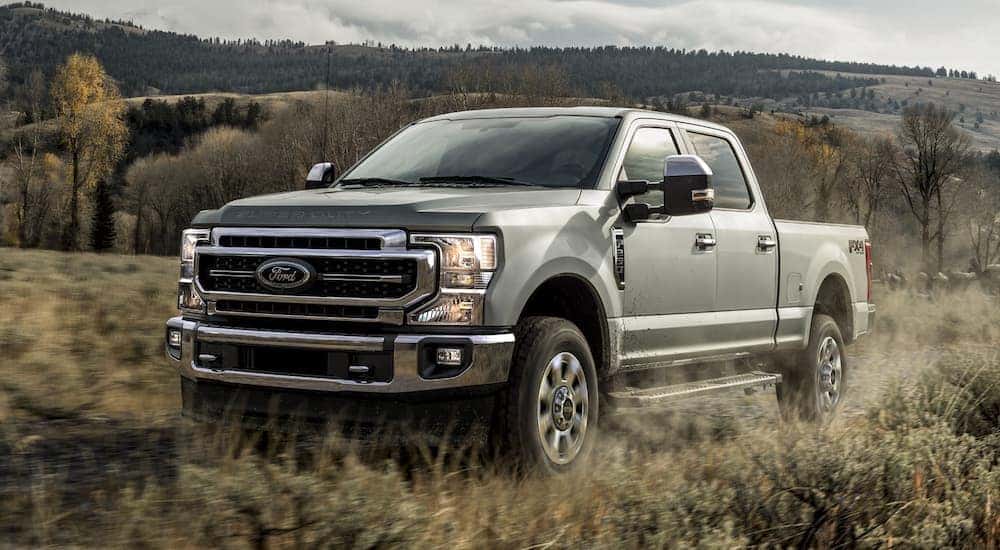 2020 is just around the corner, and as the trees turn from lush and green to bare winter branches, the big names in trucks have turned from teasing us with highlights to full reveals. One of the most exciting new truck announcements has been the unveiling of the 2020 Ford F-Series Super Duty. The 2020 Super Duty combines more power, more hauling capacity, and an off-road specialty Tremor package that looks like a whole lot of fun. Whether you need to haul a gooseneck, a fifth wheel, or a regular hitch trailer, the new Ford Super Duty is designed to put your plans in motion. Inside, you'll find technology and interior options that make the newest version of the F-series even friendlier for those who rely on its horsepower and heavy-duty capacity for work and play. We here at Vogler are very excited to see this pickup hit our Ford dealership lot!
A Beast Among Men
In the coming year, the 2020 Ford Super Duty F-series trucks will offer three possible powertrains. The standard 6.2L gas V8 engine is fully capable of many tasks, offering 385 horsepower and 430 lb-ft of torque. It's paired with a six-speed automatic transmission, but the 10-speed automatic transmission is an available option on the F-250 model and standard on the F-350.
The 6.7L Power Stroke Turbo Diesel engine is a fan favorite, having been introduced to the work truck family nearly ten years ago. As the most popular of the Ford engine options, this dependable machine offers 475 hp and 1,050 lb-ft of torque. This durable engine is paired with a heavy-duty 10-speed automatic transmission.
And then, there's the new kid on the engine block: a 7.3L V8 engine. Fondly nicknamed "Godzilla" by those in the industry, this massive option is perfect for those who need more power for commercial use, but not quite a diesel-engine level of power. The 7.3L V8 offers 430 hp and 475 lb-ft of torque, and is available in all trim levels, including the F-250 Super Duty. For those keeping track at home, this will be the most powerful gasoline engine in the class.
Let's Talk About Stowing and Towing
One of the most popular features of a Ford Super Duty truck is its ability to tow. Earlier this year, Ford revealed that the 2020 F series is going to be able to pull its own weight, so to speak. Of course, actual towing capacity depends on the body style, trim, and engine chosen, and Ford is still holding back some details, but the numbers that have been released are pretty exciting.
The base 6.2L V8 engine will have a maximum bed payload of 7,850 lbs, which looks to lead the class for payload. The real power comes with the 6.7L PowerStroke diesel V8. On the F-450, it will handle conventional towing up to 24,200 lbs, fifth-wheel towing up to 32,500 lbs, and a gooseneck hitch will bring another class-leading stat to the spec sheets with a maximum of 37,000 lbs. All of these figures are dramatic increases from the 2019 Super Duty towing specs- in fact, the current year's model had a fifth-wheel rating of 27,500 lbs, meaning the new design has gained the ability to pull 5,000 more pounds.

A Fresher Exterior
The updates to the exterior of the 2020 Ford Super Duty are apparent in the released pictures. The grill has been updated for maximum airflow to the powerful, upgraded engines. New wheels have a bolder look, with more open space to allow the brakes to stay cool. The body itself is constructed of military-grade aluminum alloy, which makes it lighter than before, stronger than before, and more resistant to accidental blemishes from roughhousing at the worksite. LED headlamps and taillights have been added to help with visibility, as well.
As the launch of the 2020 Super Duty draws closer, Ford will surely reveal additional details that really help push the truck even further ahead. We look forward to learning about tire recommendations and paint options. Most of all, we're really interested to see what updates will be made to each trim package.
What's Inside
A modern truck requires modern technology. While Ford hasn't released all the details regarding the interior of the F-Series Super Duty, the spec sheets indicate it will be a safety-focused vehicle. In fact, across the class, more and more heavy-duty trucks are being equipped with cameras and warnings to provide maximum safety when hauling a larger or heavier load. In addition to standard lane departure warning for both truck and trailer, and automatic high beam control, there are several safety features that deserve mention.
Ford's BLIS (Blind Spot Information System) will be available on the XL and standard on the XLT, Lariat, King Ranch, Platinum, and Limited Super Duty trims. This feature provides a warning signal on the outside mirror when there's a vehicle in the blind spot. This includes the blind spot for the trailer, too, meaning less craning around and adjusting mirrors, and safer trips when hauling.
The Pre-Collision Assist with Automatic Emergency Braking is equipped to prevent front collisions. This feature is also available on the XL and standard on the XLT, Lariat, King Ranch, Platinum, and Limited trims. Not only will there be a warning light and an alarm, but if sufficient braking is not detected, the brakes will pre-charge to provide a stronger response when pressed. This allows for more sensitive braking, avoiding a potential collision.
The Trailer Reverse Guidance system promises to be extremely helpful when attempting to hitch quickly and accurately. With cameras installed in the side view mirrors and center dash guidance displays, the view from behind is clearly displayed in real-time. As the steering wheel moves, the guiding lines adjust to give drivers a full view of distance and direction. Gone are the days of guessing and reversing!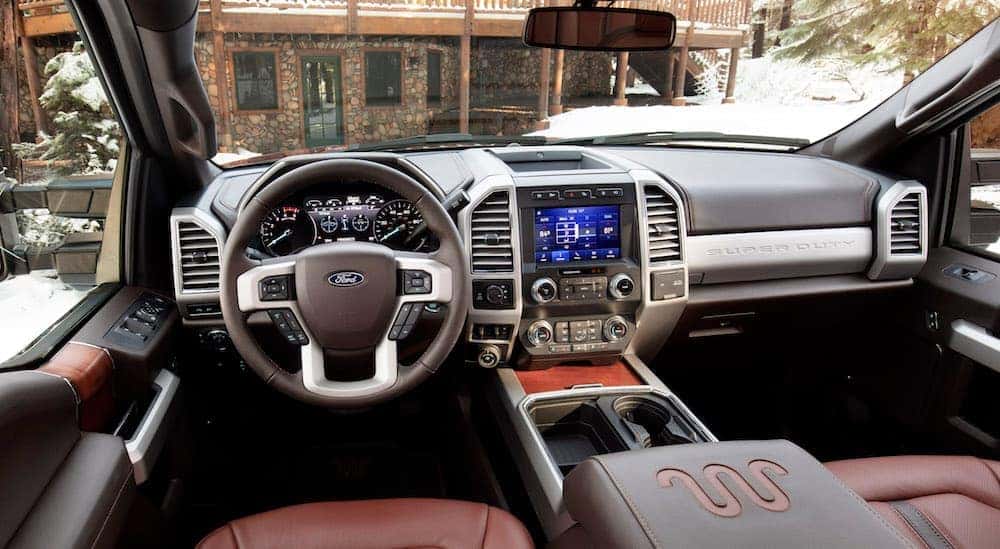 Technology is another update to celebrate. Regardless of body type or trim package, all F-Series Super Duty trucks will include a 4G LTE modem and Wi-Fi hotspot, a huge benefit to anyone who works from the road, or anyone who plans a long trip with children. Up to ten devices can be supported simultaneously, which includes cell phones, tablets, laptops, and more. USB-C ports come standard, and a wireless charging pad is optional.
For the Road Less Traveled
If your work or play destination is just past where the road ends, the 2020 Ford Super Duty is prepared for the journey. The new Tremor package, available on XLT, Lariat, King Ranch, and Platinum trims with either the 7.3L gas V8 or 6.7L PowerStroke diesel engine, is ready to hit the trails. This truck includes a 2-inch lift in the front, making it capable of fitting 35-inch Goodyear Wrangler Duratrac all-terrain tires and 18-inch wheels. As a result, the Tremor package Super Duty has a ground clearance of 10.8 inches and can ford through water up to 33 inches in depth. The running boards are pulled upwards to serve as bodyguards or rock sliders, and heavy-duty skid plates have been added.
There will be plenty of updates to look forward to as more and more 2020 models are unveiled, but the Ford F-Series Super Duty promises to be a truly exciting addition to the lineup. With a new engine option, increased trailering capacities, refined safety equipment, and updated technology, it seems like every detail has been squared away on this new model. Perfect for drivers who need power to go and power to haul, but still refined enough to be street savvy, Super Duty gives us a lot to look forward to. With everything to look forward to, it's no surprise that everyone here at Vogler Ford is very excited to get these Super Duty trucks in stock. If you're interested in a different pickup model, the Ranger or F-150, or even an SUV or hybrid model, we have knowledgeable sales staff to help you find your perfect vehicle.
What are some of the Super Duty features you'd like to see next?